Lumina Dental – Winner of 2017 Downtown Maple Ridge Business Award
Lumina Dental
Maple Ridge is a thriving city in British Columbia that Lumina Dental is proud to serve. Care for our patients motivated us to go beyond our wide range of dental services and provide you with a comfortable and fun environment, equipped with advanced technology and a friendly staff. These are some of the many reasons we won the 2017 Downtown Maple Ridge Business Award.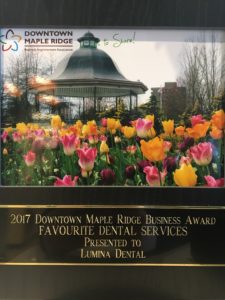 The DMRBIA is comprised of a dedicated and active volunteer board that has been striving to improve the business environment in Maple Ridge Area since 2007. The business improvement association envisions downtown Maple Ridge to be a prosperous destination that is clean, safe and vibrant, consisting of a diverse community with businesses and residents who live, work and play.
The journey of providing Maple Ridge and surrounding areas with excellent dental services has just begun! We look forward to having you in our comfortable massage chairs to simply enjoy Netflix while we strive to restore the good health of your teeth.
Our care for you goes beyond dental treatments; we provide you with flexible payment plans so you don't have a thing to worry about. Visit us in downtown Maple Ridge. We will make sure you're all smiles from the moment you step into our clinic.